Wednesday, October 18, 2023 / by Fahad Karamat
In Los Angeles, home renovation isn't just an update—it's a revolution. With an eye for the future, each project showcases a city constantly in flux, seamlessly marrying historical charm with contemporary chic. For those ready to redefine their spaces, LA's approach to home design is an inspiration, offering endless opportunities to explore functionality and luxury in equal measure.
Leading the Charge in LA's Home Design Evolution
The Charm of Natural Wood
Bright wooden floors are taking center stage in Los Angeles homes, with French and White Oak becoming staples for a fresh, modern look.
Blurring the Lines Between Inside and Out
Homeowners in LA are enhancing their living spaces with folding glass doors expanding living areas to embrace the sunny, scenic outdoors.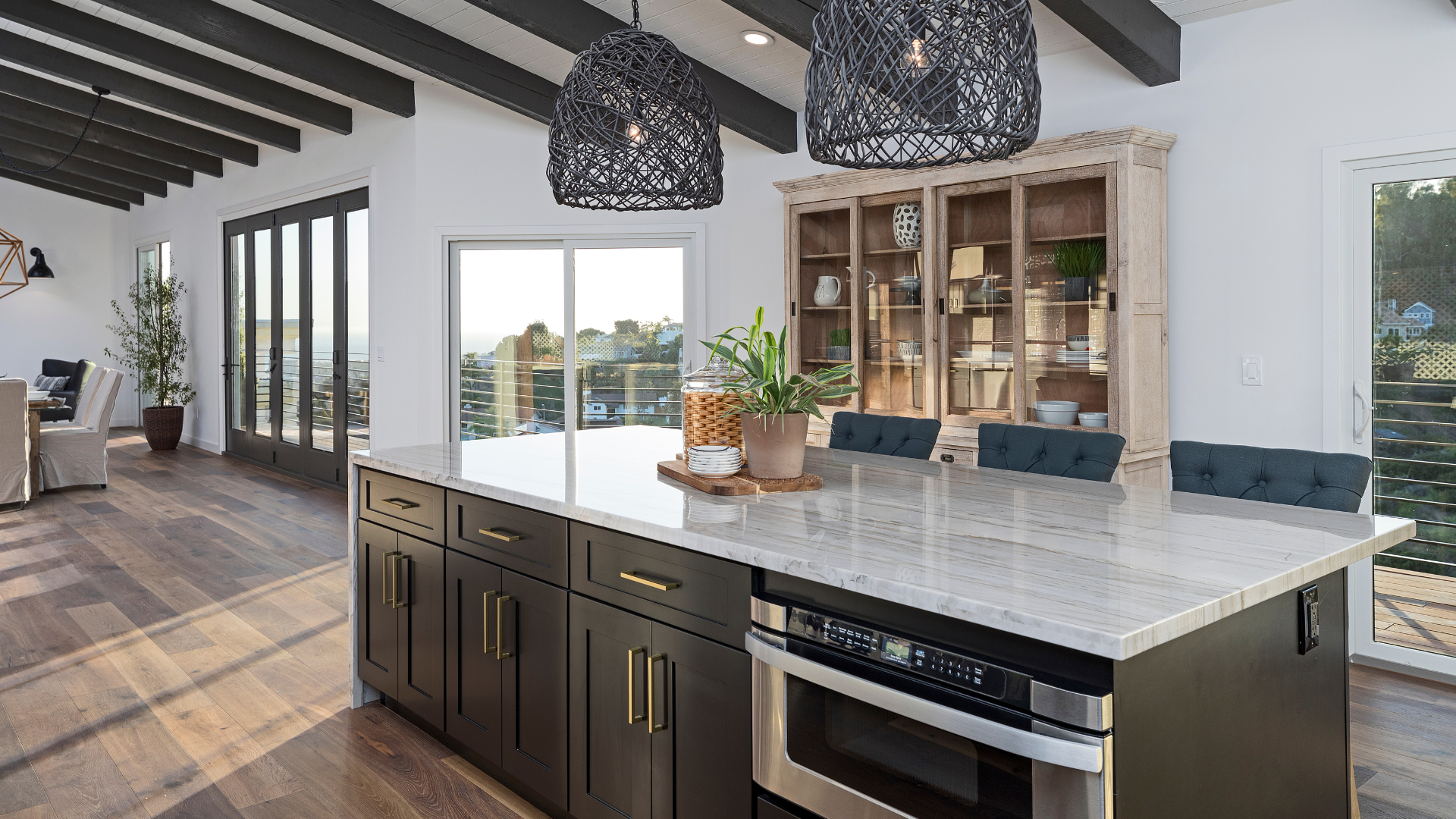 The Quiet Luxury of Brushed Gold
Kitchens and bathrooms across LA gleam with the subtle sophistication of brushed gold fixtures, adding a touch of timeless class to any decor.
Tiny Rooms, Big Statements
In LA, powder rooms come alive with vivid wallpapers and unique tiles, turning these intimate spaces into expressive design statements.
Elegance Meets Function in Modern Renovations
Waterfall countertops and luxurious showers are becoming the hallmarks of LA homes, balancing sleek design with the promise of relaxation.
Simplified Cabinetry and Tile Work
Flat-panel cabinets and expansive, handcrafted tiles define the minimalist yet bold aesthetic characteristic of the city's home interiors.
The Boldness of Dark Hues
Some Angelenos are embracing darker tones, enriching their homes with an ambiance that's both inviting and theatrical.
Kitchens That Cater to Culinary Excellence
Gourmet kitchens are being designed not just for their visual appeal but for their practicality, standing as the true focal point of LA's renovated homes.
Concluding Thoughts
Looking over the skyline of renovated homes in Los Angeles, it's apparent that the city's approach to design is constantly advancing. What emerges from these numerous makeovers is a lifestyle choice that speaks volumes about the residents themselves. In a place where the cutting edge meets the everyday and where style is as important as functionality, the latest trends are not just about keeping up with the times; they're about paving the way for a future where living spaces are tailored to the new demands of elegance, comfort, and self-expression. LA's homes are more than just structures; they're dynamic environments crafted for innovation, enjoyment, and a sleek, modern lifestyle.
---